Halloween fun!!
Here's a few crafty ideas for your kiddos from Woman's Day…
Halloween Toilet Paper Roll Characters

Woman's Day…
This Halloween project couldn't be easier. Just upcycle some toilet paper rolls and add paint, colorful paper, googly eyes, and other details to give your Halloween characters major personality as pumpkins, mummies, Frankenstein monsters, or vampires.
Get the tutorial at The Best Ideas for Kids.
What You'll Need: Googly eyes ($6, Amazon); red glittery paper ($11, Amazon); Kids variety pack paint ($8, Amazon)
Halloween Slime Jars

Women's Day…
First make the slime in the color (or colors!) of your choice — an easy project in itself that kids love to make.
Then, decorate the jars as the finishing touch: googly eyes, felt, and glue dots give your slime jars personality as ghosts, monsters, and jack-o'-lanterns.
Get the tutorial at The Best Ideas for Kids.
What You'll Need: Mason jars ($13, Amazon); glue ($8, Amazon); orange food coloring ($8, Amazon)
Handprint Black Cat

Woman's Day…
Trace little hands on black construction paper. Cut out each handprint and glue on a cat face shape.
Finish the look with googly eyes or stickers, and draw on whiskers with silver or white gel pens.
Get the tutorial at Easy Peasy and Fun.
What You'll Need: Silver gel pen ($7, Amazon); black paper ($11, Amazon)
Paper Pumpkins

HOW TO MAKE PAPER PUMPKINS FOR FALL
These little pumpkins are so much fun to make. It's a fun Fall craft you can do with your kids or a great adult craft to spruce up your mantel or table decor. You can try it with different colored papers in different patterns as well. Here's my step by step tutorial for how to make paper pumpkins for fall.
HERE'S WHAT YOU NEED
Materials:
Colored or patterned paper (2 – 8.5×11 sheets for each pumpkin)
Paper Cutter
Double Sided Tape
Glue Gun & Hot Glue
Sticks
Twine
Scissors
Get the tutorial at DIY Inspired.
Have fun!!
Paper Plate Tambourine
Create your own tambourine using a pair of paper plates and some jingle bells. Decorate it as you like!

SUPPLIES NEEDED
Two small paper plates (6″ or 7″)
Five jingle bells (¾" or 1″)
Hole punch
Pipe cleaner or twist ties
Tempera or poster paint
Paint brushes
White glue
Things to decorate your tambourine with: stickers, craft foam shapes, sequins, glitter glue, etc.
Get the tutorial at Birds & Blooms.

How to make this cute DIY Chia Pet by Frugal Family Home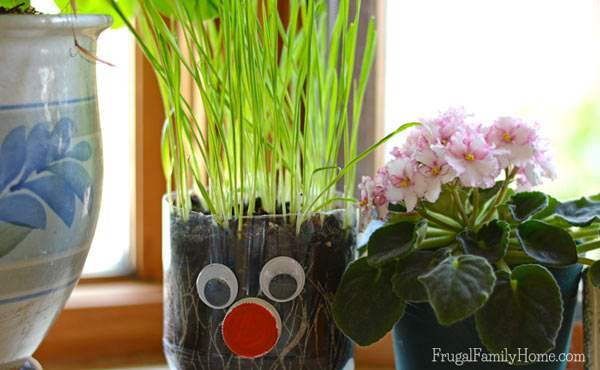 This pint-size favorite captured hearts in The Mandalorian, and now he'll do the same in your kid's classroom.
How to make tutorial by Fun Money Mom

Enter the most official way to send valentines this year. No postage stamps required.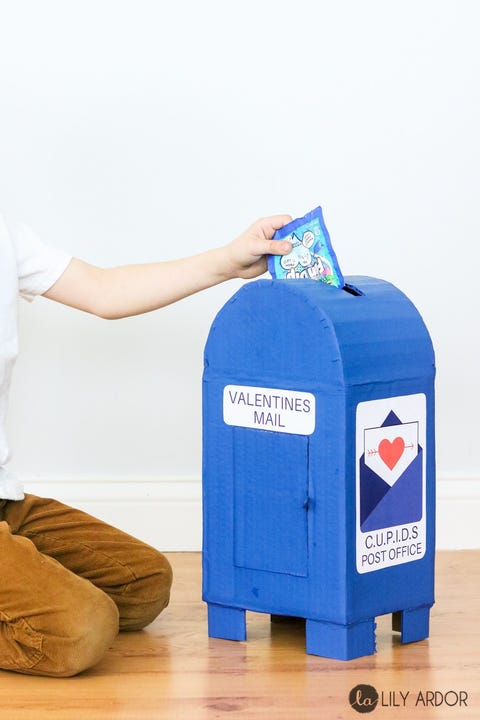 WHAT YOU'LL NEED
Cardboard Box
Glue gun
Blue paint + brush
Printable
Masking tape
Glue stick
Ruler
Scissors (or knife to cut cardboard)
Razor blade
by mamapapabubba.com

Cookie Cutter Bird Seed Feeders (a toddler-friendly method)
2/3 cup boiling water
2 packets of gelatin
2 cups bird seed
parchment or wax paper
cookie cutters or silicone molds
straws cut into 2 inch pieces
Pour the water into a very large mixing bowl.  Add two packages of gelatin and stir until it's fully dissolved.  Add the bird seed and mix well until everything is evenly coated.
Place cookie cutters/molds onto a parchment-lined tray and scoop seed mixture in until heaping full.  Place another piece of parchment on top of the cookie cutters and press down firmly to pack in all of the seeds.  Remove the top parchment layer and gently poke straw pieces all the way through the seed shapes (be sure not to put them too close to the edges).  Pop the tray into the fridge for a couple of hours to allow the feeders to set.
Later on, remove the tray from the fridge and let sit on the counter to dry out.  Flip the cookie cutters over a few hours later to let the bottoms dry out too.  Let sit for at least 3 – 4 more hours (overnight is best) until the feeders are completely dry.
Gently remove the seed shapes from the molds (they should be fully dry and hard to the touch at this point – if not, allow to dry longer).  Carefully remove the straws and tie a twine loop through the holes.  Hang in your yard and watch the birdies come by for a treat.
Rudolph Tree Ornament

Kids love Rudolph the red nosed reindeer, and this ornament will surely get them excited for the holidays!!
What's needed: Dark brown card stock, eyes, red pom poms, red pipe cleaners, glue & hole puncher.
To make: Cut head shape from brown card stock or use a circle paper cutter.  Make a hole at the top of the head with a hole punch.  Attach eyes and red pom pom to head with a hot glue gun.  Attach one full size pipe cleaner and shape the top into a hook for hanging.  Use a smaller size pipe cleaner for the antlers.
PUMPKIN PATCHES TO EXPLORE
Mr. Trees Pumpkin Patch…Happy Valley
The Pumpkin Patch…Sauvie Island
Plumper Pumpkin Patch…Portland

Papa's Pumpkin Patch…Sherwood
Ryser`s Farm Pumpkin Patch…Tualatin
Vancouver Pumpkin Patch…Vancouver
PAPER MACHE FOR KIDS
How to make a paper mache bowl:
need a small bowl – plastic is best.  If no plastic, metal or ceramic will work fine but slide a layer of plastic wrap over it first
newspaper – tear into strips
make a paper mache paste – 1:1 flour and water
dip the newspaper into the paste and layer over the bowl
you'll want many layers (about 5) – the more the better
leave to dry overnight
gently press out the bowl – if you have a plastic bowl, just give it a bit of a squeeze and it will pop out
paint and decorate
How to make a Fortune Teller (cootie catcher)
National Geographic KIDS
Help Zeus climb Mount Olympus by scaling obstacles and answering questions about ancient Greece
NASA SCIENCE Space Slime
Stretchy Universe Slime Activity
Did you know that our universe is stretching out in all directions? It's true! Ever since the universe began about 13.8 billion years ago, it's been stretching out and expanding.  Even today, as we use telescopes to see galaxies far away, we see they are moving away from us. And that's not all. The farthest galaxies are moving faster than the ones close to us.  This happens because of how the universe began, which we sometimes call the "Big Bang."  In this activity, you'll make your own stretchy universe slime.  Click the Picture…

San Diego Zoo Tiger Cubs
Tiger Cubs at the Park Video
Cirque du Soleil
Family Face Paint Tutorial Video
Just in time for Spring: bug out with some Ovo-inspired face paint tutorials that are perfect for kids.

SeaWorld Penguins
Virtual Video…All About Penguins!
How to Make Folded Paper Bracelets
Making a folded paper bracelet is a fun way to keep the kids busy and to use up old paintings. Plus, they look so pretty!
Travel Oregon Coloring Book
The fantastical scenes of Only Slightly Exaggerated are available in line-drawing form, perfect for the artists in your life. All you need is a printer and coloring pencils. Download the coloring book now.
APR 14, 2020 | 12:00-2:00PM | Facebook Live

Michael's Stores
Fun Family Activities on Facebook Live!

KIDS ACTIVITIES AND FUN THINGS TO DO AT HOME
Video activities here…

Smithsonian Learning Lab
Color Our Collections…
Calling all coloring enthusiasts! #ColorOurCollections is back and we have a brand new coloring packet!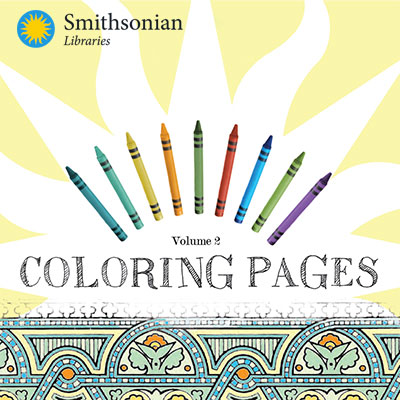 Art Robots…
In this activity collection, you'll learn how to create your very own art-making robot–an ArtBot!
Age Levels Primary (5 to 8 years old), Elementary (9 to 12 years old)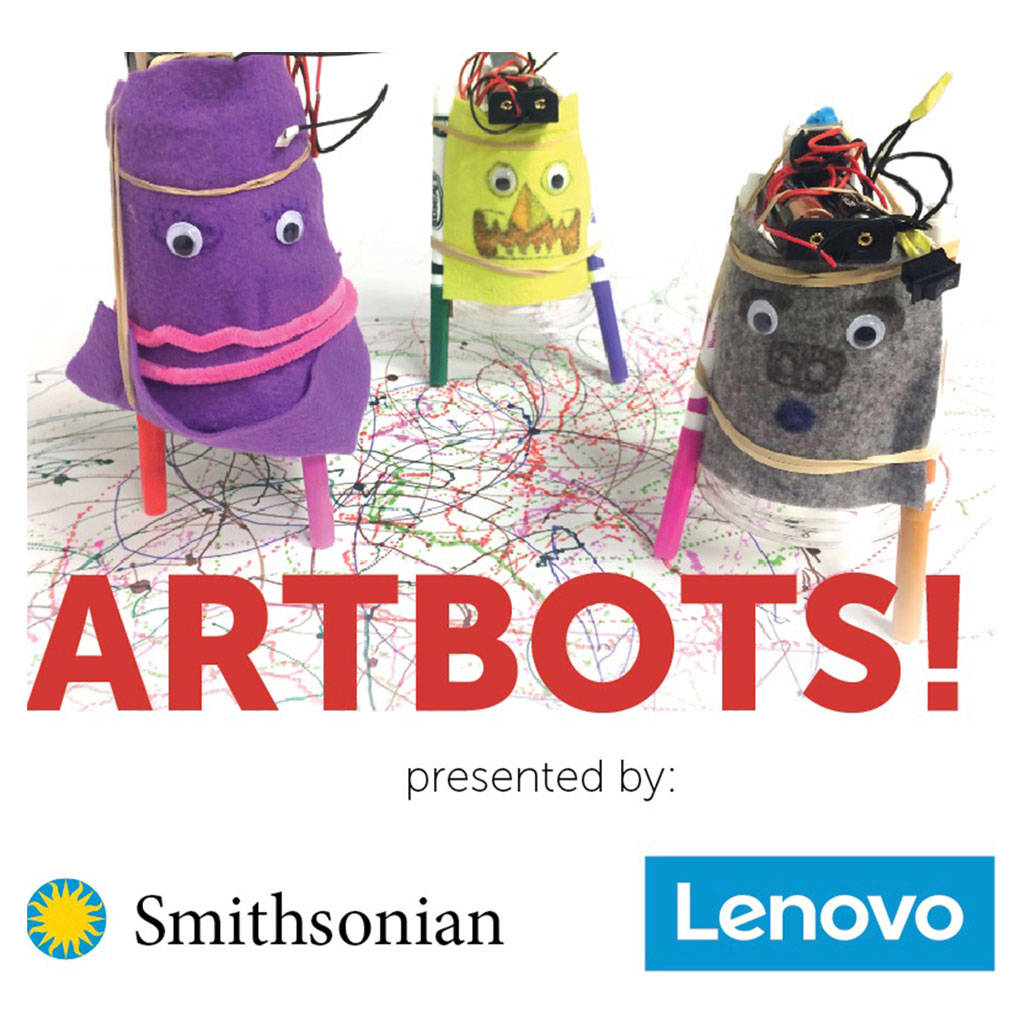 Oregon Zoo live video and home activity resources
We're bringing the Oregon Zoo to you on Facebook Live!
Go behind the scenes to meet animals and connect with our animal care staff. Tune in for new videos every week on our Facebook page or watch on YouTube. After each live video, learn more about these animals and how to help them. The activities, developed by our award-winning education team, are aimed at children ages K–5 (but we invite animal lovers of all ages to join in the fun!)
Virtual OMSI Science Pub: Cat Behavior
APR 7, 2020 | 6:30-8:30PM | Facebook Live
Go to OMSI's main facebook page at 6:15pm. Here's a link: https://www.facebook.com/omsi.museum/ You DO NOT need to have a Facebook account to watch the live stream. Also, watch for scammers trying to get you to sign up for the event. OMSI will NOT send you a request to sign up to view the Facebook Live event.
If you are unable to join us on Facebook, we will post the video to OMSI's Youtube channel following the day.
Each event will begin with our 10 question trivia game. Grab a pencil and paper and compete against your family! We will also host Q&A after the lecture. In order to ask a question, all you have to do is comment on Facebook.
NASA provides a safe place for children to play as they learn about NASA and its missions.
On this site, you will find games of various skill levels for children pre-K through grade 4. These games support national education standards in STEM — science, technology, engineering and mathematics. See the Game Descriptions and National Education Standards.
The NASA Kids' Club Picture Show is an image gallery of some of NASA's coolest and most interesting pictures. They may be used as conversation starters or writing prompts to lead children in discussions about STEM-related topics and current events.
The Now in Space slideshow introduces young explorers to the crew currently orbiting Earth on the International Space Station.